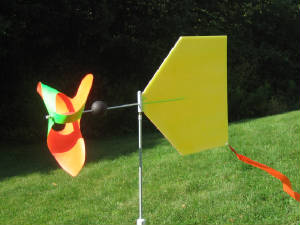 The Long Range Flags series is designed with a large fin area and propeller to allow the shooter an accurate flag reading at longer distances. The rigid, two-tone fin is constructed of lightweight Coroplast. The three blade propeller is constructed of lightweight plastic and is two-toned to help determine wind direction and speed. The flag pivots on a ball bearing system which allows for higher sensitivity. Included with each flag is an adjustable pole (24" to 42") and an anchor pin. Available in three sizes (see below).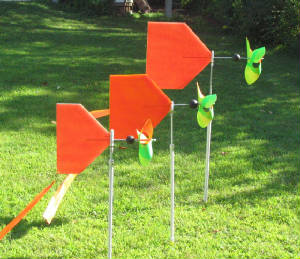 Long Range Wind Flags & Wind Meters
Long Range Wind Flags (single flag)
SMALL: 9" x 12" fin with 9" diameter propeller

$55
MEDIUM: 11" x 14" fin with 10" diameter propeller

$60

LARGE: 12" x 15" fin with 12" diameter propeller

$65
Long Range Wind Meter
Constructed of stainless steel, aluminum and polymer components. Equipped with adjustable weight arms for balance and sensitivity. Includes stand with adjustable feet for stability. Av

ailable in 2 sizes.
26" diameter with 2¼" dots

$159



36" diameter with 3½" dots

$169