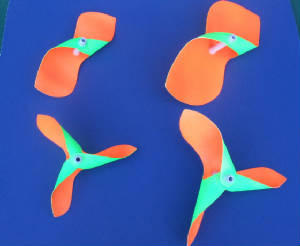 Custom Propellers
Custom made with lightweight polymers, the propeller's unique design and two-tone paint helps the shooter to read wind speed and direction at a glance. Available in 5 sizes with your choice of 2 or 3 blades.
If placing an order, please specify size, number of blades and the shaft diameter (5/32" to 1/4") of your flag where the propeller will be attached. To attach the propeller, each comes with stainless steel washers and bushings in the diameter you specify.
Size A 7" diameter $12

Size B 8" diameter $14

Size C 10" diameter $16

Size D 11 ½" diameter $18

Size E 14" diameter $20

Upgrade your flags with custom propellers!